Ducks Dine On is a meal plan for UO faculty, staff, and students living off campus. The Ducks Dine On plan provides a discount on meals at all nine of the University Housing dining locations.
With Ducks Dine On, you use your meals by scanning your UO ID card at the dining venues. 
For example, at Carson Dining, which offers all-you-care-to-eat dining, you swipe your UO ID card as you enter and one meal is deducted from your plan. 
In all other à la carte venues, a meal is five points. You can shop for the items you want for up to five points, pay the cashier using your UO ID card, and one meal will be deducted from your plan.
Please note: Ducks Dine On cannot be used on mobile ordering. You must scan your UO ID card in person at the dining venue.
Availability
Ducks Dine On is available throughout the year. Ducks Dine On meal points are good for a 13-month period beginning August 1 and expiring on August 31 of the following year. Accounts for the 2023–24 academic year will be activated beginning August 1 and will be valid through August 31, 2024. During the academic year, points can be redeemed at any dining venue. Summer dining options are limited.
Meal Plans
10 meals for $117.50 = $11.75 per meal

25 meals for $287.50 = $11.50 per meal

50 meals for $550.00 = $11.00 per meal

100 meals for $1,050.00 = $10.50 per meal. Limited time offer: The first 100 fall term sign ups will receive a Golden Mug.
Who qualifies for the plan?
Anyone with a UO ID card.
How do I sign up?
It's easy! Complete the quick application and submit your payment online. We accept Visa, Mastercard, and Discover. Students may also choose to have it billed to their student account.
What does a "meal" mean?
Meals can be used for an all-you-care-to-eat meal in Carson Dining or up to five points at any location. Purchases must be equal to or less than five points per meal, but you may purchase multiple five-point meals in one transaction. Anything over five points will be charged as an additional meal.
For example, a rice bowl with your choice of chicken, curried vegetable or tofu, and three vegetable sides at Fresh Marketcafé in the Global Scholars Hall is four points. Add a yerba mate tea or brewed coffee for one point to make a five-point meal. You could treat yourself and a friend or colleague to coffee and a pastry or cookie (many coffee drinks are one or two points, and many cookies and pastries are one or two points). A large salad at DUX Bistro in the Living Learning Center is a five-point meal. A Drake's Deli hot chicken sandwich with two side dishes is five points. It's easy to mix and match items and create a meal out of five points.
We recommend that if you are using your plan at our à la carte venues to get items for less than five points, that you supplement your purchase with other items (i.e. a piece of fruit, snacks to take with you for later, etc.) to get the full value of your meal.
What if I need more meals?
You may upgrade your plan and purchase additional meals at any time. The more meals you purchase, the greater the discount.
When do my meals expire?
Ducks Dine On plans begin on August 1 and expire on August 31 the following year. The Golden Mug bonus expires on August 31 as well. Ducks Dine On meal plans are non-refundable. 
Add Duck Bucks to your Ducks Dine On plan or purchase Duck Bucks separately!
Add $135 to any plan or purchase separately and receive $150 in Duck Bucks (one time only) value added to your UO ID card. Duck Bucks has added flexibility in that it can be used just like cash at all food venues in the EMU and residence halls. Whether you want to have lunch, get some great concert tickets, or grab a cup of coffee while studying late at the library, Duck Bucks make on-campus purchases easy and convenient. Ducks Bucks and orders containing a Dine On Plan and Duck Bucks may not be charged to your student account. For a full list of locations that accept Duck Bucks, ways to make additional deposits, terms and conditions, or to check your Duck Bucks account balance go to emu.uoregon.edu/duck-bucks.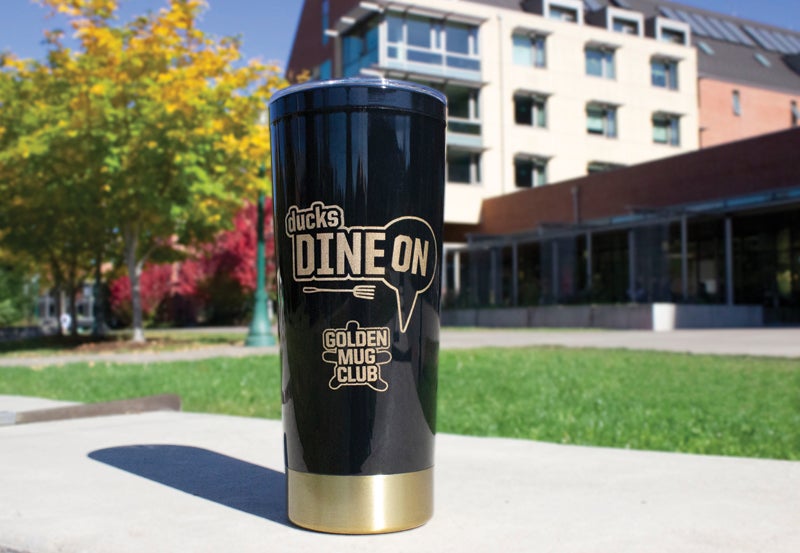 The Golden Mug Club
In addition to the excellent meal price, we give you a golden mug if you are one of the first  100 people to purchase the 100-meal plan for fall term. You can fill your mug up any time for free. Just bring your golden mug (or any other reusable cup that is equally sized) to any of the residential dining venues, except Carson Dining, fill it up (soda, tea, or brewed coffee) as much as you like, swipe your card, and enjoy!